"I need to get out of here."
"I want to diversify my assets."
"I wonder what it's like to live somewhere else."
"Can I improve my standard of living without a salary increase?"
"What should I do when I retire?
"Bali looks dope."
"You're telling me I can get an apartment for half of what I'm paying here??"
"Donald Trump."
These are just a few of the thoughts that have led 9 million Americans to pack their bags and move outside the United States. There are plenty of reasons people want to expatriate themselves and their USD.
Many people have spent decades working their careers in the U.S. and then retiring in a foreign country where their wealth will stretch further. Others want to immerse themselves in a new culture by joining the workforce and living among the locals. Some remote employees are curious about testing the limits of their newfound location independence.
Whatever your reason is, consider yourself lucky. American expats have a much easier time moving abroad than many other immigrants. That being said, there are certainly some countries that are much more American-friendly than others.
For this list, we compiled research on top living factors such as cost of living, visa/work permit requirements, language barriers, expat population, quality of health, and crime rates.
So, here's our list of the top 10 best countries for Americans to move to in 2020:
New Zealand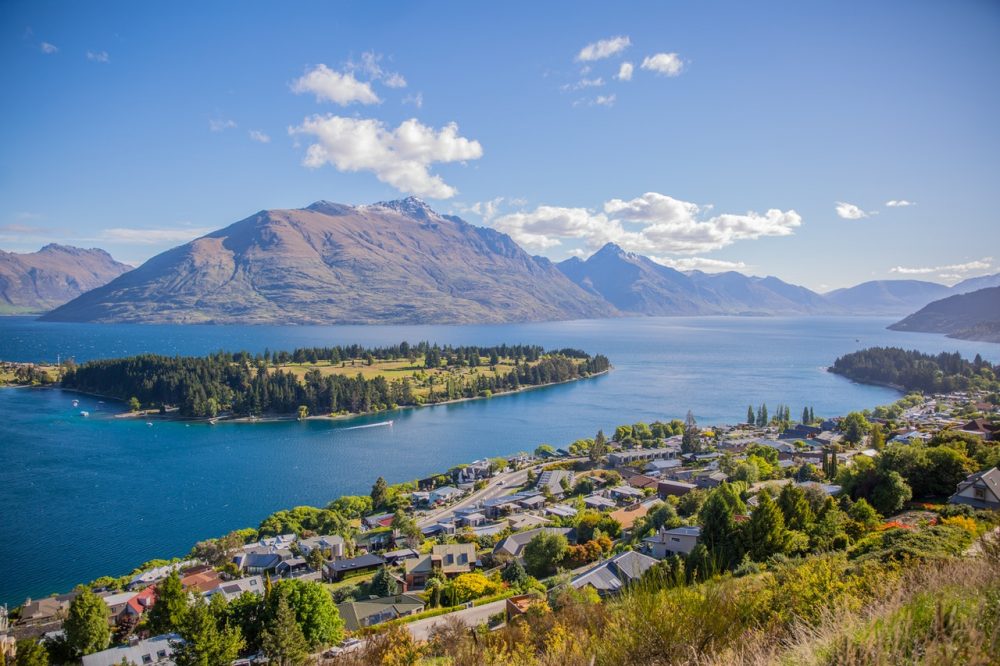 Cost of living: Similar or slightly more than the U.S. (think Seattle level prices for city living)
English speakers: Almost 100%
Appealing to: Individuals under 30, Families with children
Benefits: Nature, Safety, Education system, Good healthcare
Drawbacks: High cost of living, Difficult to get residency unless you have an employer or desired skill
New Zealand is becoming a top-rated destination for Americans. Anyone between the ages of 18 and 30 with approximately $3,000 in the bank can apply for a working holiday visa. This visa (very similar to Australia's working holiday visa) gives travelers 12 months to live as a Kiwi. You can work for the full year or study for six months.
For those over 30, it's a bit more complicated, but still possible. You'll most likely need to get a job with a New Zealand employer, be a "skilled worker," or have money to invest. New Zealand's economy is strong, and there are a variety of investment opportunities in real estate, biotech, agriculture research, and more.
The cost of living is slightly more than some other countries on this list. Living in Auckland will cost about the same as living in Seattle. However, there are some huge benefits for families living in New Zealand, including subsidized health care, a world-renowned work/life balance, and a blend of city and nature living. New Zealand also has one of the best education systems in the world and was rated the second safest country on the planet by the 2019 Global Peace Index (the USA came in 128th). There are small expat communities in the big cities like Auckland and Wellington, though not as established as other countries.
Germany
Cost of living: Varies from city to city, but significantly lower than the U.S. (Munich is the most expensive city to live in, and it will cost about the same as living in Philadelphia)
English speakers: About 50% (You'll want to learn German)
Appealing to: People who love Germany, Students, Millennials
Benefits: Top education system, Universal healthcare, Economic stability, Beer and sausages
Drawbacks: Complicated bureaucracy, German language requirement
Germany's top tier education system, economic stability, universal health care, and short work hours have made it a prime candidate for people looking to relocate to Europe. You can gain residency by studying, finding employment, or investing. Financial stability is required, and you will be expected to assimilate into the culture.
Moving to Germany requires a significant commitment to assimilation. You will have to learn German if you want to work, live, and navigate the culture and bureaucracy. The reward is an excellent standard of living, great career opportunities, and some of the shortest working hours in the world. Over 100,000 Americans live in Germany, so you should be able to find an expat community relatively easily if you live in a city.
Germany enjoys a low crime rate and high employment rate. If you plan to live and work in Germany, it's relatively easy to get a residence permit, though the bureaucracy can be a little overwhelming. You will need to find health care that is valid in Germany and prove your financial stability. If you want to stay permanently, you will need to have standard residency for 5 years, become proficient in the German language, and enroll in an integration course.
Mexico
Cost of living: Cheap (about half the cost of U.S. living)
English speakers: In resort towns like Cancun and Cabo everyone speaks some English; in cities like Mexico City and Oaxaca, maybe 50% of the population speaks English and you'll need some Spanish
Appealing to: Retirees, Nomads/Travelers, Investors
Benefits: Low cost, Very easy to gain residency, Large expat community, Real estate is available
Drawbacks: High crime rate, Corrupt and misogynist government
Mexico is one of the easiest countries for Americans to move to. It's also the most popular, with over a million Americans calling Mexico home now. Cancun, Puerto Vallarta, and San Miguel de Allende have been hubs for retired Americans for decades. Investors are pouring money into coastal resort towns. Even millennials are starting to gain residency and set up home bases around the country.
You'll get a renewable 6-month tourist visa on arrival when you travel to Mexico, and applying for residency is simple. For temporary residency, you just have to prove that you've made $2,000 each month for the last six months. You can renew this visa for four years and then you can become a permanent resident. (You can also have this process sped up by putting some pesos in the right hands).
Mexico itself is a beautiful country with incredible diversity. There are beaches, mountains, and cities of all shapes and sizes. It's easy to find expats all over the country. However, the crime rate is relatively high, worse even than the United States. The 'machismo' patriarchy is corrupt and in a constantly simmering war with the drug cartels. It's pretty easy to stick to safe areas, but you might want to do a little extra research to see where your dollars are going when you convert them to pesos.
Australia
Cost of living: Slightly higher, but similar to U.S.
English speakers: Nearly 100%
Appealing to: Students, Young professionals
Benefits: High quality of living, good education system, good healthcare
Drawbacks: Distance makes visiting/traveling difficult, Expensive
Australia is a huge and diverse country. From pristine beaches to wild nature to modern cities, it has everything you could need. Nearly everyone speaks English, so there's no language barrier. There are expat communities in the major cities, and Australians are very welcoming, so it might be easier to make friends here than in some other countries.
There are 8 or 9 different work visas you can apply for, which are fairly accessible to workers and investors. The education and healthcare systems are good and there is actually a skills shortage in their thriving economy, making it easier than most countries to find local employment. You can gain a permanent resident visa through family, work, business, investment, or retirement pathways.
The cost of living is similar to the U.S., making it one of the more expensive countries on the list. But the main deterrent for most people looking to make a move is the distance. The shortest flight you can hope to get is still over 15 hours, while most take 20-30 hours. It's expensive to get there and back, plus you can't bring much of anything with you.
If you don't mind putting a little distance between you and the U.S., Australia is a great option. But if you're hoping your friends and family will come to visit you, you might want to choose a different hemisphere.
You'll want health insurance that covers you internationally when moving out of the US. Our members love SafetyWing and so do we. They have fully-equipped health insurance made for remote workers and nomads who spend as much time abroad as they please. (Note: this is an affiliate link)
The Czech Republic (Czechia)
Cost of living: Cheap (about 50% of the cost of living in New York City)
English speakers: About 25% of the population (more in Prague)
Appealing to: Students, Freelancers, Young professionals
Benefits: Cheap, Freelancer Visa
Drawbacks: Language barrier
The Czech Republic, also known by it's shortened name Czechia, is a beautiful country that is seeing massive growth. The capital, Prague, is now the sixth most visited city in all of Europe. For the last two decades, it has been a popular city with budget travelers and TEFL teachers looking to get work in Europe. But now that the economy is booming, more and more people are attracted to this European Union hotspot.
One of the big draws is the relative ease of getting a visa/work permit. Their freelance visa makes moving and working there easier. You just need proof of funds (around $5,500 USD), health insurance, and a business plan related to the Czech Republic. This makes it a great European choice for digital nomads and entrepreneurs.
The language barrier can be an issue, especially anywhere outside of Prague. You'll be expected to learn some Czech. Real estate prices have risen exponentially in the last five years, and housing shortages are affecting several cities. If you're looking to invest or retire, Czechia might not be ideal.
Canada
Cost of living: Very similar to U.S.
English speakers: About 85%, some people only speak French
Appealing to: Anyone in the workforce
Benefits: Social health care, Good education, High standard of living, diverse
Drawbacks: Top cities have gotten very expensive, difficult to get residency
Canada has the highest overall quality of living in the Americas. Their top cities of Toronto, Vancouver, and Calgary often rank high as some of the most livable cities in the world. They have a stable social health care system, good education, and some of the most beautiful nature in the world.
The top cities can be quite pricey, and the process of assimilation is more complicated than moving south of the border. You'll need a job offer to get a work visa unless you were a student in the last 12 months.
One of the major draws of Canada is its dedication to inclusivity and diversity. That is part of the reason people who are marginalized in the U.S. have started emigrating to cities in Canada.
Thailand
Cost of living: Very affordable, but more expensive than Mexico
English speakers: About 25% of the population, but more in cities like Bangkok and Chiang Mai
Appealing to: Nomads, Young professionals, entrepreneurs, teachers
Benefits: Low cost of living, International travel hub, Strong infrastructure
Drawbacks: Difficult to get residency without a lot of money
Thailand has been a premier travel destination for decades. The Thai people and government are friendly and welcoming to foreigners, and the low cost of living has made it a hotspot for backpackers. However, in recent years, nomads have started setting up a home base in Thailand due to its ideal location in Southeast Asia, low costs, and strong expat community.
Bangkok and Chiang Mai are the most well-known cities and each has a large expat community. However, Thailand is a large country with many cities if you'd like somewhere where you can get even more bang for your buck.
Singapore
Cost of living: High (Similar to Los Angeles)
English speakers: Over 50% of the population speaks English,
Appealing to: Entrepreneurs, Investors
Benefits: Strong economy, Political stability, Business Friendly
Drawbacks: Expensive,
Singapore consistently gets named one of the best places for expats to live and work full-time. It is relatively easy to gain a work visa and permanent residence for mid to high skill workers. You'll most likely have to get a job offer in Singapore, but once you're there, it's one of the best countries in the world to start a business, with plenty of cash grants available to foreigners.
The education system is top-notch, and pretty much all crime committed is white-collar, so it's very safe for foreigners on the streets. Approximately 25% of the population comprises expats from all over the world, so it's easy to assimilate and is an excellent place to network for international businesses.
The high standard of living in Singapore is both a pro and a con. The country is clean and well organized, but you'll have to pay top dollar for everything from food to health care. You'll need to be well established financially to live comfortably in Singapore.
Argentina
Cost of living: Very low (50% to 70% cheaper than USA)
English speakers: About 50% of the population (more in big cities)
Appealing to: Retirees, Young adults, Couples
Benefits: Beautiful nature, "European-like" cities, Relaxed and family-centered lifestyle
Drawbacks: Distance, Political and economic instability, Weak infrastructure
Argentina is the second-largest country in South America and boasts stunning natural landscapes as well as progressive cities. Most of the expat community is based in the capital Bueno Aires. U.S. citizens are drawn to Argentina because of its diversity and family-oriented culture. Argentina is one of the safest countries in South America, but that doesn't mean crime doesn't occur.
Immigration policies are relatively liberal, but very bureaucratic. They have a very welcoming retirement visa, but for anyone else wanting to gain temporary residency, you'll have to establish some sort of business reason to reside there. You can gain permanent residency after two years of temporary residency.
Argentina is appealing for retirees and young people looking to explore South American culture. However, it's at least a 12-hour flight to the United States or Europe, which is a major drawback if you want your family to come visit.
Montenegro
Cost of living: Low (50% of U.S.)
English speakers: About 40% of the population (more on the coast/touristic locations)
Appealing to: Retirees, Young adults, Anyone looking to move to Europe
Benefits: Tax haven, Affordability, Weather,
Drawbacks: Language barrier, Political instability
Montenegro has seen massive growth in tourism and immigration since becoming an independent nation in 2006. It's beautiful weather, medieval cities, rugged mountains, and coastline along the Adriatic sea have made it a popular Baltic destination. Montenegro is also a candidate for the European Union, and accession to the EU could happen by 2025.
Montenegro has straightforward and liberal laws when it comes to gaining residency. You can buy a home or start a business and hire yourself as an employee to gain temporary residency. After five years, you can become a permanent resident, and five more years qualify you for citizenship.
Retirees will find that their US dollars can go a long way in Montenegro. Another reason for its recent boom in popularity is the potential to gain EU citizenship.
Honorable Mentions:
Norway
Switzerland
Panama
Paraguay
Ecuador
South Korea
Brazil
Indonesia