Digital nomad community…
…we need to have a chat about digital nomad diversity.
Disclaimer
If you're in one of those coffee-shops that are very trendy get a tasty beverage… maybe a stack of pancakes as well.

This is a long post with a lot of things to think about. You will want to be eating or drinking something.

If this post offends you, I apologise. Please get in touch with me to discuss anything or gain further clarification. You have the right to respectfully disagree with everything I am about to say.
Let's begin.
I've been travelling on and off as a digital nomad for almost 18 months. I'm writing to ask all of us as a community to become truly comfortable with diversity.
"Sure!" I hear you say. "We're diverse already!"
But are we?
What Is Diversity?
Diversity is an umbrella term we use to define the infinite wealth of human experiences. We don't comprehend infinity particularly well so inevitably, we try to break it down. We form smaller categories and subcategories so it becomes more manageable.
We have gender, age, sexuality, race, culture, economic status, educational background…the list runs into insanity as we try to put people in their boxes and make quantifiable sense of all the possibilities present within us.
We try to create definition out of the ever-fluid, free formation that is humanity
In your life, whilst most of the people you know might look like you, the mere fact that you're with human beings means that you are in a diverse environment. Our experiences and perspectives are as unique as our fingerprints.
But over the course of humanity's lifespan, we have hurt one another, waged war on one another and demonised one another based on characteristics we either cannot control or don't agree with.
In doing that, we have created tensions along certain lines that are not easily repaired. We have dirtied the beauty of diversity and made it something that we want to enjoy once again but ultimately fear. It even feels like the hurts we have inflicted on each other have blasted holes even in our genetic code as generations have been taught to be constantly defensive in the face of what is different.
It's harrowing.
Nevertheless, that is the world we live in today. Before we continue this discussion, it's important to understand the historic forces that drive our behaviour. Knowledge is power, and in this age of information, we cannot afford to be ignorant of the former things. Correct context is the key to moving forward. So don't bring your head-in-the-sand thinking here.
The Utopia of Digital Nomadism
The Digital Nomad community is one of the most accepting, wonderful communities I have ever had the privilege of being a part of. Remote employees, freelancers, bloggers, entrepreneurs and creatives come together in a sublimely inspiring mix.
Having come from a place where diversity was not celebrated, it was here in this community that I was able to experience and embrace diversity in all of its exhilarating glory.
So many stories, unlimited pathways, unfathomable potential.
It's a genuine force for good because inherently, lots of digital nomads have an open way of thinking. They welcome new experiences, new cultures, new ways of living and working. Some of us do this part-time, some us try out co-living; the point is that you're free to be you.
Toxic bias around things like race, religion, gender tend to be reduced in that sort of environment.
But we have to be real.
We have all come from various backgrounds and have brought our various biases and our conditioning with us. We have. It's a fact of life. And sometimes in our utopian society of openness, we handle diversity really poorly and there's really no need for it.
In a relaxed cloud of whiskey or rum, we forget ourselves and out of the heart, your mouth speaks. Most of the time it's good. Other times though…it's poison. Our misplaced words go to work quickly, destroying our relationships and causing those around us to throw up protective barriers and retreat with the view that this community is not such a safe space after all.
I'm hyper-aware of some of the tensions between certain groups in the world today, and less aware about others. But even within our community, we trigger one another by saying silly things and doing silly things that don't fit with our belief that diversity is good.
What Makes a Person Who They Are?
I am a dark-skinned woman and a full-time digital nomad. I'm a musician, I'm a writer, I am obsessed with food and the original Pokemon theme tune. My family background is typical in some ways and not in others. I'm shy but I'm outgoing. I'm fat, and I'm fabulous with a big squishy heart that adores people. Multi-skilled and miserable in the morning. I should enjoy social media, and I do, but I'm highly inconsistent and more private than I first thought. Like you, I have moments of brilliance and moments where it all goes to the wall and I'm an idiot. I'm British when it suits me. Jamaican sometimes too. A little bit Nigerian sometimes as well.
Go big or go home right?
Now try and put that in your quota box. Oh well we don't quite have a box for that… I guess we'll reduce me down to being black, being female and being a digital nomad. Now add a whole bunch of stereotypes and it's easy to think you've got an idea of my whole identity.
The point is I'm so much more than my skin colour, my gender and my job. I am a mixture of my culture, my environment, my experiences, my strengths, weaknesses, desires…my choices. Some of those match the stereotypes you may have seen. I can guarantee that plenty of them won't.
The same is true for you.
So… how did we get to this point of reducing people to what we've seen on TV?
I have no idea. I think that this way of thinking is a safety mechanism that's gone terribly wrong. We used to use this safety mechanism to keep us safe from harm ("that Lion has big teeth, it will kill me. I won't try to stroke it"). But, now we use it to make inferences about who people are, and subsequently, who we think they should be. The digital nomad lifestyle is meant to be the exact opposite of that.
It's so utterly limiting. It's also very wrong.
We are not immune from this in the digital nomad community. The majority community come from a Caucasian background. The lifestyle has been lived through this collective lens. There have not been any major problems thus far but as time goes on, the cracks are starting to show.
As digital nomadism expands to include more people from different backgrounds, I'm starting to see this fear of 'difference' rear its ugly head. It comes out in lots of different ways. Assuming that certain people will be predisposed to certain things based on the few things you know about them. Confusing clearly distinct cultures as a joke. Disrespecting people who live slightly differently or make different choices to you.
Then we gaslight each other and say "Why are you getting upset?"
I can't think of a faster way to destroy the beautiful community that's been building over these past years. We need to get a hold of it now and be better.
So with that said, here are my top tips for enjoying diversity in the Digital Nomad community.
How to Handle Diversity in the Digital Nomad Community
We're gonna use some GIFs to help us out.
1. Don't Be Weird About the "Where Are You From?" Conversation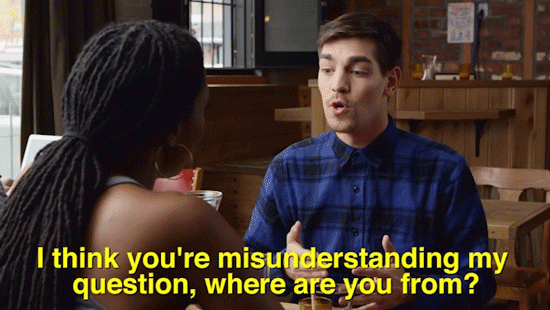 This is a practical point that we've all come into contact with. Here's a couple of pointers to help us out.
When people tell you where they're from, they'll give you the details they think are important. If for example they say "I'm from Lithuania!" but you don't think they look the part, keep it to yourself. They'll volunteer at some point, if you actually talk to them, that they are in fact of Senegalese descent where most people look the way they do. "Aaah," you think to yourself. "That makes sense."
Lithuanian culture is not tied to race and it is not up to you to decide that not enough detail has been given. It's likely that people will look a certain way, but it's not guaranteed. Someone says "I'm from Zimbabwe!" but they look similar to people you've seen in Ireland. Suck it up buttercup. Don't assume. Just enjoy that they've told you a little more about themselves and that's just the tip of the iceberg.
So instead of asking "Where are you from?" followed by "Where are you really from?", if you want to keep the conversation going why not say "Wow! That's awesome. What was it like growing up in Lithuania/Zimbabwe?" or "That country is so beautiful, I'd love to visit. Anywhere you'd recommend?" These rules apply to meeting local people as well. They may tell you about how their parents were expats and loved it so much they decided to stay. Or they'll tell you stories of how their family survived incredible hardships. Either way, ask good questions and you'll get good answers.
Let the good times and the conversations commence!
2. If You See a Chubby Digital Nomad, Don't Freak Out
I am really proud to be part of a community that loves adventure, and values having a healthy, active lifestyle. Being location independent comes with the added benefit of being able to live in some of the most amazing places, where you'll be doing a hike through the rainforest one day and be remote working in one of the many co-working spaces another day.
Remote workers live this way to achieve the level of work-life balance they desire with the flexibility they need. As a direct result of our love of acai bowls and climbing mountains, our bodies might look super fit and super healthy.
On the other hand…they might not.
That person's extra fat or lack thereof is not a guarantee of their capabilities to be active and enjoy the same kind of activities as you. As the community expands to include people of all different shapes and sizes, remember that the digital nomad status is not dependent on an ability to fit into the standard, Italian model body type. It's actually dependent on your ability to work anywhere. You tend to be sitting down for that kind of work.
This means that your decision to be healthy is a PERSONAL choice and not a rod to beat other people with.
So, for every digital nomad douchebag out there that thinks certain bodies aren't acceptable to the community…you're wrong. If your body can get you from A to B then it's a body that works well enough for this lifestyle. If it doesn't…it's really none of your business.
I think a great rule of thumb is to be willing to discuss healthy living if someone wants to discuss it with you. If you do something awesome like kickboxing, weightlifting, or salsa then most people in the community love to always be developing so they'll ask you for your advice.
Just wait for someone to ask. 9 times out 10, they always do. Then you don't look like a tool, imposing your opinion on people you might not know so well. Once you've got a great relationship, you can be more relaxed.
3. Have a Healthy Respect for Different Cultures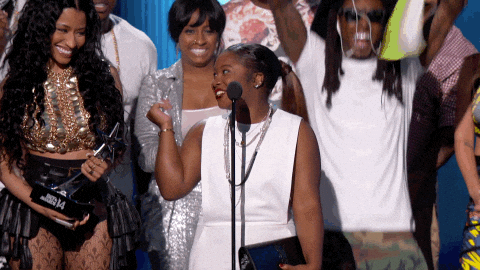 This is a huge one. We've all found ourselves championing our own cultures as the best way forward. As an example, I think British English is nicer than American English. Our chocolate is definitely nicer than the tat they sell in the US.
Before you shout blue murder…
…where's the lie?
I also have been known to think that unless chicken is jerk chicken, then it's not chicken worth having. I know, I know…you may think simple salt and pepper is the way. With all due respect…you are wrong.
I am joking. Salt and pepper rocks.
The important thing to remember is that it is not 'your way, or the highway'. I see this a lot when on the road – different cultures mean different priorities. Let's look at something universal, like food. Everyone eats it but the application is totally different depending on where you are. In the UK and America, food is optimised for speed. You get in, you sit down, you stuff your face and you're out. In an hour and a half you're done and onto the next thing.
Italians…no way. You better be taking at least 3 hours out of your schedule to eat a good meal, especially if you're in a large group. Some people eat with their hands. No it isn't dirty, it's just different. The removal of cutlery is not a removal of etiquette. Get that colonial conditioning out of you please.
Do your due diligence and be sure to research the places that you are going to so you know what to expect. NomadList have so many metrics and descriptions of different places as a starting point, and people across the world have spent time creating thorough resources so that you know what you're letting yourself in for.
If you want to travel, meet people and be truly inclusive, we all must endeavour to be culturally sensitive. What is that you ask? It's the ability to separate culture from hierarchy. Cultures should not be ranked in terms of desirability. Just as you accept the people in your life for who they are, and not as you'd like them to be, cultures must be appreciated in the same way.
So, on the first meeting with people who come from a different background, maybe it's unwise to lead with a whole bunch of stereotypes. Be curious, ask questions, but ask through a lens of wanting to understand a culture just for the sake of it and not as a way of comparing how much better it is where you're from. Yes, of course, we all have our comfort zones, I'm not saying that it's wrong to say "In the UK we do it like this and I like it." Or "In Poland, we do it like this and I like it." The issue is when you say that and then sneer at another culture that doesn't do it the same way.
It defeats the purpose of travel; if you really believe your culture has it all together, save yourself the hassle of going to new cities and stay in the place that has all the good stuff you like.
4. Say No to Gaslighting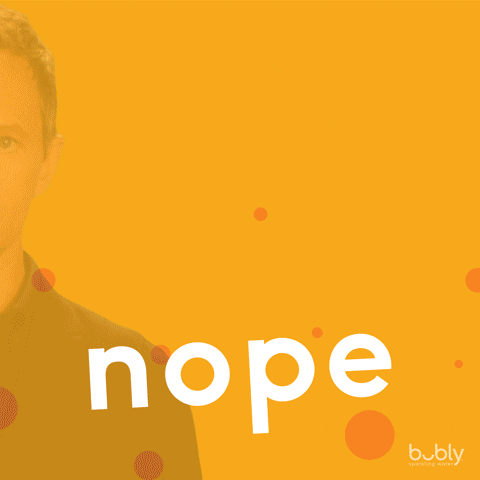 Let's go in with a scenario here. Say the worst has happened. You've said something dumb, or someone you know has said something dumb and somebody is offended as a result. Out of embarrassment for yourself or the other person, we may be tempted to take a defensive position that manifests itself as "It was only a joke, get over it."
No, no and no on all fronts. If you're caught up in a situation where something has been said and people are upset, do not under any circumstances, attempt to diffuse the situation by telling the offended party that they do not have the right to be offended.
That is the fastest way to alienate people. Period.
Imagine this. Your friend is in an abusive relationship. They sit you down and tell you that their partner has been texting other people inappropriate, flirty messages and meeting up with other people in a date-like situation. When they challenge that partner about this behaviour, the partner says "Why are you so upset about it. Can't I have friends?"
Yeah… feel that outrage.
Gaslighting is when you make someone feel like they're going mad…for feeling. The intention is to make people doubt their own sanity and question the internal mechanisms that help them understand the world around them and the interactions that they have.
The whole world is built on the idea of cause and effect. You do something, you get a certain result. Gaslighting is what happens when you're trying to cheat the system. Someone engaged mouth before brain. The result is that you've hurt someone's feelings. They have responded in a negative fashion. This makes you feel bad. Nobody likes feeling bad, so to get out of the situation as quickly as possible, there is a huge temptation to sweep it under the carpet.
"Nothing happened! I didn't mean anything by it! Don't get so offended! Chill out! I have Chinese friends; I use that word with them all the time!"
Sometimes we take it a step further. "You're being so aggressive about this for no reason."
Oh Lord. No.
As digital nomads, we must say 'No' to gaslighting. We do not have the right to tell people how to feel about anything. It doesn't matter what your intentions were. I say this all the time; your intentions become irrelevant the moment those words leave your mouth. How your words are received is what is important. When we say risque things it could go either way and so we must be prepared to accept the consequences of our actions and apologise when we are wrong.
Quick Guide to Resolving Offences
Here's your quick guide if you are the one doing the offending.
Do not tell people how to feel.
If something has gone too far, be prepared to listen about why what you've said has caused offence.
Be ready to say sorry and really mean it.
Hug it out.
Here's your quick guide if your mate is doing the offending.
Do not tell people how to feel.
Do not attempt to cover for your friend by trying to explain their intentions. At this point, you vouching for their character means nothing.
Try to get your friend to realise the wrongdoing.
Hug it out.
Bottom line and let's say it together folks; do not tell people how to feel.
You cannot just rob people of their basic human rights. Just because it's not offensive in your eyes, doesn't mean that it's not offensive.
We all must do well to remember that.
Be a Diversity and Inclusivity Champion
It's important that we are true champions of diversity and inclusivity. This is where the real treasure of nomadic travel is. Diversity is what will expand your capacity, in work, in life and in love. It opens up so many unexplored avenues and is the secret sauce that will take your experience from being a waste of time, to completely iconic.
The alternative is that we do nothing.
We can absolutely decide to not develop the way we think or rediscover that kind, non-judgemental curiosity and that child-like sense of wonder about the world and the people in it. The result of that would be that digital nomads will be no more than another group of entitled people who enjoy this world at the expense of others.
What a crying shame that would be.
If this article resonates with you, please feel free to share the link on your social media; the more of us that are aware of these issues, the better it will be for all.
Love you all to the moon and back.
Xxx